Climate change is studied from a wide perspective
What happens to water and soil conditions, ecology and biodiversity when the temperature rises? And how are species of plants and animals affected? Researchers at the interdisciplinary research programme Ekoklim at Stockholm University are looking for answers to these questions.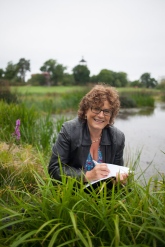 The programme has been divided into four research areas with a focus on landscape processes, biodiversity, ecosystem services and adaptive governance. In its first few years, Ekoklim has brought together nearly 70 researchers from the Department of Ecology, Environment and Plant Sciences, the Department of Physical Geography, the Department of Zoology, the Stockholm Resilience Centre and the Bolin Centre for Climate Research, the latter of which merged with Ekoklim this summer.
During the first phase of five-six years, Ekoklim was expected to bring together and develop fruitful collaborations between different disciplines that were needed to grasp and approach the programme's broad perspective of change, says Georgia Destouni, professor of hydrology and coordinator of the landscape processes research area within Ekoklim.
"We have succeeded well with this, and the collaboration has yielded important scientific contributions. Ekoklim is now entering a second phase of formal centre formation through the merger with the Bolin Centre for Climate Research. The merger expands the research perspective of both programmes to include several parallel driving forces and types of changes."
Find out more about Ekoklim at their website http://www.zoologi.su.se/ekoklim
Last updated: October 7, 2016
Page editor: Elisabeth Sturesson
Source: Department of Physical Geography