First long drill cores ever obtained in the Amundsen Sea
The longest drill cores recovered from a ship anywhere offshore of West Antarctica have just been retrieved.
The expedition
International Ocean Discovery Program (IODP) Expedition 379 sailed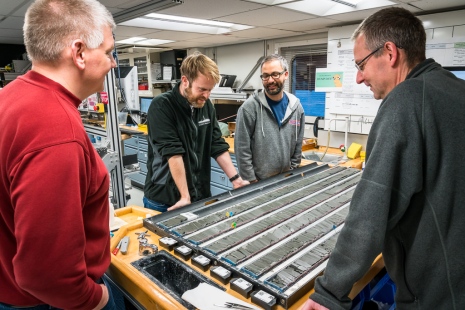 from Punta Arenas, Chile, on January 23rd, 2019, to the Amundsen Sea, Antarctica, and returned to Punta Arenas on March 15th.
Working from a scientific drill ship, the JOIDES Resolution, an international group of 121 people, including 27 scientists, recovered sedimentary records from the deep water of the Amundsen Sea to determine how the ice sheets and ocean currents in the region have behaved in the past, and how this relates to past climate changes in comparison to today's changes.
Drilling took place while countless icebergs drifted through the region, often forcing the ship to move off location and start drilling a new hole as quickly as possible, before an iceberg came to that new location.
First long drill cores ever obtained in the Amundsen Sea
Because of the extreme isolation of the Amundsen Sea region, even compared to other parts of Antarctica, these are the first long drill cores ever obtained in the Amundsen Sea. The long cores were collected in an area that drains parts of the West Antarctic Ice Sheet that currently is experiencing the largest ice mass loss in Antarctica. These cores were taken from a location in the Amundsen Sea where thick sediments were deposited over the last 6 million years. The recovered material contains layers of sediments representing the alternating cycles of cold and warm periods when the ice sheet expanded and retreated.
Predictions for the future
Records of how the ice has behaved under past oceanographic and climatic changes will contribute to understanding of how the region may change in coming decades.
In August, scientists will gather in Texas to review initial data, examine the samples more fully, and compare results from the expedition to what is known about other regions. Dr Benedict Reinardy (Department of Physical Geography, Stockholm University) was part of the science team during the expedition and will also be involved in sampling sediments from the drill cores in order to investigate sedimentary processes at continental drift sites linked to the advance and retreat of the West Antarctic Ice Sheet in the Amundsen Sea.
International program
IODP is an international program that includes the United States, Japan, China, Japan, Korea, India, Brazil, New Zealand and Australia, and a consortium of 15 European countries (Germany, UK, France, Austria, Canada, Denmark, Finland, Ireland, Italy, Netherlands, Norway, Portugal, Spain, Sweden, and Switzerland). Following the expedition, the sediment cores will be analysed, sampled, and stored at the IODP repository in College Station, Texas.